Student microlight pilot in near-miss close to M25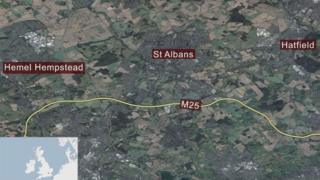 A microlight being flown by a student pilot came within about 100ft (30m) of a light aircraft in airspace near the M25, a report has found.
The UK Airprox Board said the two aircraft were flying near St Albans on 31 May in a "known choke point".
The microlight instructor saw the aircraft approaching at "about 30ft (9m) above" and took avoiding action.
A "late sighting by both pilots" led to the category B incident, the second highest collision risk, the board said.
"The student was flying the aircraft and, due to the nature of the exercise, the instructor had his hands following the controls. He saw an aircraft approaching... only about 30ft above them. He took control and increased the rate of descent," the report said.
The light aircraft pilot, who was "almost overhead the M25", did not think avoiding action was necessary as he believed there to be about 200ft (61m) between the aircraft, the report added.
The board, which investigates near misses, said the light aircraft pilot "could have been more positive with his action" and moved away to a safer distance.
It concluded that "pilots should be mindful that other's risk appetite may not be the same as their own" and that "safety had been much reduced below the norm".