Princes Risborough silver hawk treasure has royal link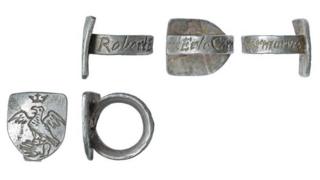 A 17th Century silver hawk ring found in a field by a metal detectorist has been linked with royalty.
The 8.23mm (0.3in) vervel, unearthed in Buckinghamshire in 2015, was worn by a hawk to identify its owner.
It has since been established it was owned by Robert Dormer, 1st Earl of Carnarvon - a keeper of the royal hawks who died in the English Civil War.
Buckinghamshire County Museum said the vervel was a "rare find" and would go on display.
The ring is inscribed "Robert Erle Carmarvin" and has an image of a bird of prey on a gloved hand, with a crown above its head.
Carnarvon had an estate near High Wycombe and the vervel was discovered about eight miles away at Princes Risborough by Roger Paul.
Brett Thorn, the museum's keeper of archaeology collections, said the earl had been Charles I's ward and was later Lord Lieutenant of Buckinghamshire.
He said: "He was a significant player in the English Civil War in the county, involved in the sack of Wendover and his own house at Wing was sacked by Parliamentarians."
Carnarvon was killed at the Battle of Newbury in 1643, aged 33.
The silver ring was declared treasure and the museum bought it for £3,000 with help from grants.
Mr Thorn said: "It's a rare find for the county and it was the first time in the museum's 150-year history that we've been able to acquire one."