Little Red Riding Hood tale hampers wolf debate, says academic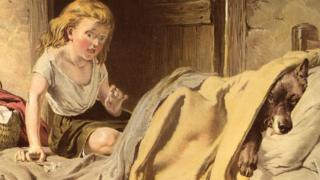 Little Red Riding Hood and other fairy tales are hampering a debate about reintroducing wolves into the wild in the UK, a literature expert claims.
Dr Sam George, from the University of Hertfordshire, believes images such as the mythical werewolf and the "big, bad wolf" dominate stories of the animal.
Mike Collins, from the UK Wolf Conservation Trust, said that there are "almost no" wolf attacks on humans.
A public debate at the university will discuss the issues on 18 November.
Mr Collins would welcome a debate about bringing the wolf back to British shores.
However, he added many factors such as the creation of a wide genetic pool and the road network would need to be looked at before even considering a reintroduction.
'Rushed job'
Those in favour typically believe it could be placed back in Scotland, where the final wolf in the UK was reported in the 18th century.
"I'm all for introduction if it's done properly, but I don't think it'd be done properly in my lifetime; it would be a rushed job," Mr Collins said.
A perception of wolves is that they are vicious animals but, according to Mr Collins, there have only been two deaths involving wolves in the United States in the past 25 years.
He added: "Wolves are so scared of people if they see you in the wild, they run. If they wanted to kill people, there would be a lot more people dead."
---
Wolf facts
The largest members of the dog family
Live and hunt in packs of about six to 10
Prey on large animals such as deer, elk and moose
Almost never attack humans
Predominately now live in Alaska, Canada and Asia, while some remain in mainland Europe
Source: National Geographic
---
Dr George - who will speak at the Redeeming the Wolf: A Story of Persecution, Loss, and Rediscovery conference - believes this narrative comes from the "demonising" folklore and fairytale around the animal.
In Little Red Riding Hood a wolf, disguises itself as a grandmother, whom it swallowed whole, before proceeding to eat her granddaughter when she notices what a large mouth she has. "All the better to eat you with" it exclaims.
Dr George said the only real positive depiction of a wolf is when a pack adopt the child Mowgli in the Jungle Book.
"History suggests that there has been little sympathy around the persecution, slaughter, and extinction of British wolves," she added.