Airlander 10 completes next set of testing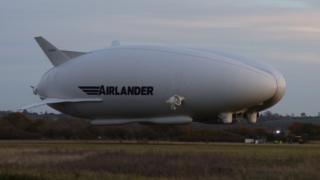 The world's longest aircraft has successfully completed its sixth test flight.
The Airlander 10 - a combination of a plane and an airship - took off at 15:11 GMT and landed at 16:18 GMT from its base at Cardington Airfield, Bedfordshire.
Hybrid Air Vehicles Ltd said they were now in the "next phase of extended test flights".
It will soon "fly higher, faster, further and longer", the company said.
A number of modifications and upgrades have been carried out on the craft to "to allow for the expanded test parameters".