Natalie Seymour: Floral tributes for Cambodia backpacker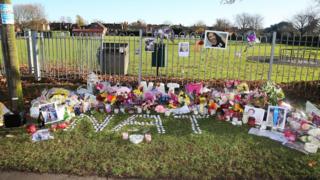 Friends of a British tourist who died while backpacking in Cambodia have gathered every night since her death at a memorial made in tribute to her.
Natalie Seymour, 22, was found dead in a hostel in the southern city of Kampot with her Canadian friend Abbey Gail Amisola last week after feeling unwell.
Flowers have been left in her memory near a park Miss Seymour played in as a child in Stotfold, Bedfordshire.
Her mother Wendy Bowler, 60, said it was a "beautiful memorial".
Her family moved to Shefford while she was growing up.
Miss Seymour, who had been working as a freelance make-up artist, and her 27-year-old friend were found dead in their room by staff at the Monkey Republic Hostel.
The hostel said the pair had been feeling unwell and went to a pharmacy to get medication.
The Foreign Office said it had been supporting Miss Seymour's family.