Yarl's Wood Centre misconduct: Two men deny sex offences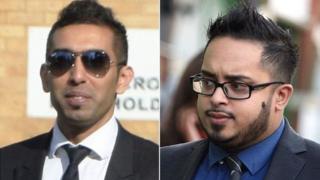 Two officers at an immigration removal centre have denied sex offences against a "vulnerable woman" who was challenging deportation.
Syed Hussain, 34, of Elstow, denies sexual assaults and misconduct in a public office.
Bodrul Islam, 30, of Bedford, denies sexual touching and misconduct.
The offences at the Yarl's Wood Centre in Bedfordshire came to light in 2012 when the woman complained to a female officer, Luton Crown Court was told.
It is alleged she was also told if she pursued the complaint she would go back to prison, prosecutor Christopher Donnellan QC said.
In 2010, then aged 21, the Roma woman was jailed for a criminal offence and told she would be deported to eastern Europe at the end of her sentence.
She was transferred to Yarl's Wood, in a "vulnerable" position with a history of self harm, while fighting to stay in the UK, Mr Donnellan said.
"In many ways this case is about the abuse of power."
The men, employed by Serco, each held a public office.
"Each took advantage of a detainee in a sexual way to a different degree," the prosecutor said
Mr Hussain groomed the victim by flirting but Mr Islam had a "different relationship".
"She thought he was single and she was in a relationship with him," he said.
The case continues.