Sainsbury's worker 'sent extremist songs' on WhatsApp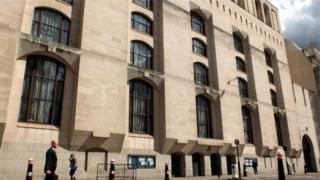 A radicalised supermarket worker shared so-called Islamic State propaganda on WhatsApp, a court has heard.
Iftikhar Ali, 19, was working at Sainsbury's while he is alleged to have sent extremist material.
Jurors at the Old Bailey were warned that some of the evidence was "graphic" and "upsetting".
Mr Ali, of Totteridge Drive in High Wycombe, Buckinghamshire, denies 12 counts of dissemination of a terrorist document.
He also denies one count of possessing a document likely to be useful to a person committing an act of terrorism.
The charges relate to a six-month period between 8 September 2015 and 10 March 2016.
'Research and curiosity'
Prosecutor Mark Paltenghi said Mr Ali sent songs via WhatsApp, one with the title "Oh Islamic State You Light the World".
He said Mr Ali had "become a radicalised proponent and supporter of extreme Islamism".
Jurors were told that after the defendant's arrest, officers found an alleged terrorist document called "Advice for those doing Hijrah (migration)".
The court heard Mr Ali made no comment to most questions in a police interview, but did deny links to the so-called Islamic State.
He told officers: "I have no links to any terrorist network. I'm not part of Islamic State or any other organisation.
"I was interested for research and curiosity purposes only as to what was going on in the Middle East."
The jury were told it would be for them to decide if Mr Ali had an "idle interest" in the Middle East or not.
The trial continues.