Monarch aircraft hangar at Luton Airport hosts pantomime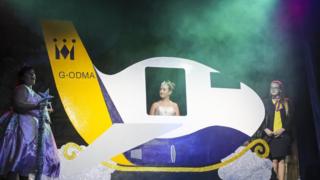 An aircraft hangar that used to maintain and repair Monarch planes has been transformed into a theatre.
Hangar 127 at London Luton Airport has been turned into the venue for the production of the pantomime Cinderella.
The show references the airline's collapse and has replaced Cinderella's carriage with a Monarch plane.
Monarch Aircraft Engineering, which was separate to the airline, still repairs planes at the site. It said it wanted to "do something for the community".
The company's managing director, Chris Dare, said it was the first time it had "ever done anything like it" and decided to put on the panto to celebrate its 50th year in business.
The production by the Luton-based Phoenix Players is only taking up a section of the building, which currently has an ex-Monarch aircraft in the hangar on a maintenance check.
Barry Hyde, from the amateur company, said: "The acoustics are amazing, it sounds phenomenal."
Talking about Monarch Airlines going out of business in October, the theatre group said: "We are very sad for all those who have lost jobs and for their family and friends.
"There are members of the cast affected directly and indirectly by the loss of Monarch Airlines, but we are all facing forward and putting all our efforts into making this panto our best one yet."
Shows have begun, but the temporary theatre will be dismantled after the final performance on Sunday to make way for another aircraft.