'Creepy' child bollards moved in Buckinghamshire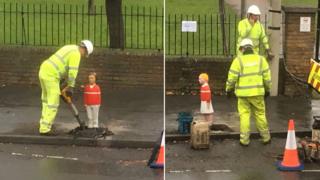 Child-shaped bollards which were branded "creepy" by residents have been repositioned by a local council.
Earlier this year, Buckinghamshire county council installed the bollards in Iver in a bid to deter people from speeding outside schools.
Recently two of the bollards were dug up and repositioned by the council.
A spokesperson for the council said: "At the request of a local resident we have recently rotated the bollards so they are facing into traffic."
'Absolutely terrifying'
There are eight of the child-shaped bollards outside four primary schools in Iver and Iver Heath.
Iver Parish Council said the bollards cost £5,395, excluding installation.
In September, local resident Jonny Baker said the bollards were "creepy and hideous".
"I look out of my window every morning and these are what I see. They're absolutely terrifying," he said.
Buckinghamshire county council said the bollards were installed at the request of the parish council to warn drivers they are approaching crossings used by school children.