Milton Keynes police commander is sacked for misconduct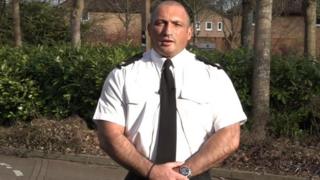 A police superintendent who wanted to "cause trouble" for a witness in a case against him has been sacked.
Supt Gez Chiariello joined Thames Valley Police in 2007 and became Milton Keynes' area commander in 2014.
In 2016 he was investigated over claims of harassment and conspiring to pervert the course of justice and told not to contact people connected with the case.
However, he encouraged a third party to contact the employer of one of the witnesses, a conduct hearing was told.
Chief Constable Francis Habgood said: "It gives me no pleasure to see his fall from grace. He pressed his own self destruct button in this case."
The hearing, at Kidlington, Oxfordshire, was told of a string of text messages between 46-year-old Mr Chiarello and the third party, referred to in court as Miss B.
One message from Mr Chiarello to a woman, referred to at the hearing as Miss B, read: "Defo need to start causing her grief at work … Need a pay as u go sim for ur old phone".
'Trace of evidence'
When Miss B messaged him to say "so easy to cause trouble for her at a little business", Mr Chiarello replied: "I was thinking that and babe we certainly will."
He also warned Miss B on how to avoid detection when sending letters to the witness's employer, saying "be careful for fingerprints" and to "be very careful where there is a trace of evidence".
During interview, he denied any knowledge of the messages to Miss B.
Mr Chiarello denied his actions had amounted to gross misconduct.
Gerard Boyle QC, for Thames Valley Police, said Mr Chiariello's behaviour had been "despicable" and "deplorable", adding: "He lied to Thames Valley Police officers over and over."
John Beggs QC, for Mr Chiariello, said his client had had a "career without blemishes until these allegations."
The 2016 investigation into conspiracy to pervert the course of justice and harassment concluded with no further action being taken against Mr Chiarello and he was released without charge.
The Crown Prosecution Service had decided there was insufficient evidence to proceed, police said.