Turkeys stolen from Ardeley farm 'could make people ill'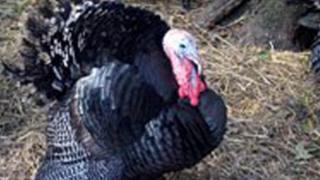 People tucking in to Christmas dinner could end up being sick if they eat turkeys stolen from a Hertfordshire farm, its owner has warned.
Nine Norfolk Blacks were taken from Church Farm in Ardeley in two separate break-ins on Friday and Saturday.
Tim Waygood said the turkeys were being kept for breeding and had recently been wormed.
"If they have been killed, culprits will be eating or selling tainted food. They will be ill," he said.
Tom Large, the farm's manager, said the thefts were a "planned operation".
"Always buy from a reputable source", he said.
Police have appealed for witnesses.