'Luscious' 17th Century painting returns to Wrest Park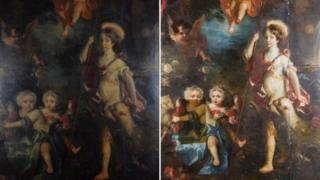 A 17th Century painting has been restored to its original "luscious colours" ready to be returned to the stately home it left 100 years ago.
The picture of sisters Jemima, Airmine and Elizabeth Crew belonged to Wrest Park in Bedfordshire for more than two centuries until it was sold in 1917.
Conservator Rachel Turnbull said it had been in "pretty poor condition".
The painting will be re-hung next year after English Heritage acquired it in 2015.
Mrs Turnbull, who is the senior conservator at English Heritage, said it was "heavily discoloured with a dirty varnish layer" on arrival at the studio.
About 300 hours of cleaning revealed its "luscious colours".
She said: "It's a dramatic change and the colours of the blue drapery and the lovely little rosy cheeks the sisters have got are absolutely adorable."
English Heritage curator Peter Moore said the portrait of the three sisters was painted in about 1682 by the "fashionable" artist Jacob Huysmans.
It was taken to Wrest Park by Jemima Crew when she married Henry Grey, Duke of Kent.
Mr Moore said English Heritage had been given a "once in a lifetime opportunity" to return it to its former home.
While the cleaning work is over, there is still a bit more work to be done.
An X-ray has revealed a cherub had been painted over and Mrs Turnbull hopes a further investigation might reveal if this was done by the artist or at a later date.
The canvas also needs to be put on a new stretcher, as the current one, which is not original, has warped.
The group portrait is expected to return to Wrest Park for display before the end of March.