Woman blocked from using disabled toilet to advise pub chain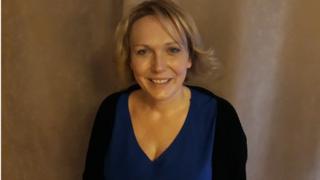 A woman barred from using a pub's disabled toilet because she "did not look disabled" is to work with the owners on disability issues.
Perdi Parris, from Caddington in Bedfordshire, told how a security guard stopped her using the facility at the Slug and Lettuce in Harpenden despite showing proof of her illness.
The 41-year-old has now met with Stonegate pubs which runs the site.
She said she now plans to work with them on "disability awareness".
The Slug and Lettuce apologised for what happened and said the episode was "certainly not reflective of company policy".
Describing what happened last Friday, Mrs Parris, who has multiple sclerosis, said she provided the security guard with two items that confirmed her condition and had a radar key, which lets people unlock disabled toilets.
But according to Mrs Parris, the man told her: "I don't care what identification you have, you do not look disabled."
Mrs Parris claimed he "slammed" the toilet door on her three times during the incident which triggered a sense of panic.
"The confrontation that I had to have, just to use the toilet, was humiliating," she said.
The pub chain invited her to a meeting.
Speaking after that meeting, Mrs Parris said: "They were highly apologetic. They are really keen on working with me to change their disability awareness module. They are also talking to their door company."