Richard Hignett detained for apple strudel murder plan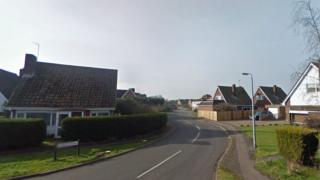 A man who laced his parents' apple strudel with drugs and planned to kill them with a crossbow has been indefinitely detained.
Richard Hignett, of Wootton, Bedfordshire, admitted administering drugs to enable the murder of his parents.
Luton Crown Court heard he planned to kill his parents James and Stephanie and himself, in March 2017.
The 32-year-old was suffering with paranoid schizophrenia at the time.
The court heard Hignett, who has been detained in a mental health unit, laced the strudel and his parents' hot drinks with a potentially lethal dose of a muscle relaxant.
'Quiet murder'
His father regained consciousness about 24 hours later and called the police.
Neil King, prosecuting, said: "In early February (2017) the defendant's mind turned and he was starting to search on the Internet 'how to murder someone quietly' and 'familial homicide.'"
He bought a crossbow and had the drugs sent to him in a package from Portugal, the court heard.
"They received extremely large doses. The crown say in some circumstances the doses could have been fatal," Mr King said.
Marion Smullen, defending, said he "suffered dreadful delusions."
She said Hignett's condition had improved since he was moved from Bedford prison to Brockfield House, a medium secure mental health unit in Essex.
Detaining him indefinitely, Judge Michael Kay QC said: "His parents have written to the court to say that they forgive him and that he had terrible mental problems."