Colworth Garden Village homes could be built on 'unspoilt countryside'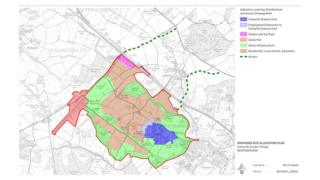 Plans to build on "one of the few unspoilt bits of Bedfordshire countryside" have been met with heavy criticism from some local residents.
The scheme to create Colworth Garden Village, with 4,500 homes and a railway station, has been approved to go to consultation by the Executive committee on Bedford Borough Council.
The scheme is part of the council's proposed Local Plan 2035.
They will "help us shape the growth of the town", they said.
Baroness Young of Old Scoone, who lives in Souldrop close to where the homes will be built and leads the Keep North Beds Green campaign said there will be "huge problems" if the development is built.
She said she knew houses were needed, but building "on one of the few unspoilt bits of Bedfordshire countryside" was "not in proportion".
Jeremy Viewing, chairman of Knotting & Souldrop Parish Council, said the major issues will be "congestion on the A6" and the "closeness" to Santa Pod Raceway, which is described as "the fastest and loudest motorsport on Earth" by the racetrack.
A spokesman for the raceway said: "There is no agreement with the developers other than to explore possible noise mitigation solutions.
"Bedford Borough recognises that Santa Pod Raceway is an important attraction for the area and has given absolute insurances the development will not go ahead at the expense of our business and/or racing operations," they said.
Bedford Borough Council is not controlled by any one single party, but is led by the directly-elected Liberal Democrat mayor.
Charles Royden, the Liberal Democrat deputy mayor, said building a new railway station at Sharnbrook would "take traffic off the A6".
He said this will happen because "part of the planning condition is that a station has to be built before people start living in the homes".
Consultation on the plans is expected to start on 22 January and run until 5 March.