'Dipstick' vandalises police car on emergency call out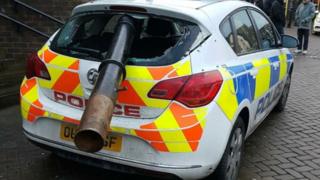 Police officers on an emergency call-out returned to their car to find a metal bollard had been thrown through the rear windscreen.
Bedfordshire Police said it was responding to an unrelated dispute on High Street, Dunstable, on Friday at 14:10 GMT.
No-one was in the vehicle at the time and there were no injuries.
Supt Nick Lyall described it as an "outrageous" act of vandalism by a "dipstick".
On a Twitter post he wrote: "Another vehicle off the road and unable to attend emergency calls... ironically they could be from the loved ones of the dipstick that did this."
Commentators on social media have been quick to react, describing the damage as "disgusting", "so disrespectful" and "idiotic".
The vandalism happened while officers were taking a statement following an unrelated dispute in the area of Ashton Square, off the town's High Street.
Supt Lyall said the weight of the bollard and the force used suggested more than one person was responsible.
"This is a heavy bollard that was uprooted from the pedestrianised area," he told the BBC, "it would have taken a couple of people to do this.
"We do not have an unlimited supply of police vehicles and this takes one off the road and unable to respond to an emergency.
"I cannot understand what is going on in people's minds when they damage police vehicles like this. It achieves nothing. It's outrageous behaviour.
"This happened in broad daylight in the middle of Dunstable. Someone, somewhere, must know something."