'Wrestling session' Luton teacher loses appeal over ban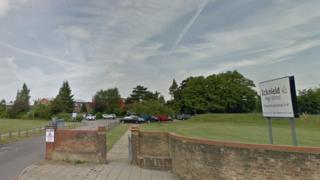 A teacher who was struck off after holding out-of-hours wrestling sessions has lost his appeal against the ban.
Azam Zia, who taught at Icknield High School, Luton, was banned from the profession for at least two years at a disciplinary hearing in May 2017.
Mr Zia said the hearing was "unfair" and challenged the ruling.
The maths teacher claimed there was a "gaping void" in evidence, but a senior judge said she could not see a legal flaw in the ban.
At the High Court, Mrs Justice Lambert said Mr Zia held Saturday tuition sessions for Muslim pupils at Luton's Tokko Centre between August and November 2015.
Students were trained in wrestling techniques by Mr Zia and another man, neither of whom were trained wrestling instructors.
Parents 'unaware'
The teacher charged pupils between £15 and £20 to attend the sessions, but the court heard there was no insurance in place.
Mr Zia failed to get written consent from all the parents of pupils involved. Some parents were unaware the sessions were not affiliated with the school, or that their children would be getting "physical training in wrestling".
The judge said: "Mr Zia admitted that, on one occasion, he encouraged two students to settle a grievance between them by wrestling each other."
Mr Zia believed the ban should be overturned as he was "held in high esteem by parents and colleagues" and made "a valuable and unique contribution to the profession".
He claimed the disciplinary hearing should have been adjourned to allow him to present evidence of his exceptional teaching.
His challenge was dismissed by Mrs Justice Lambert who said he had been advised by his trade union throughout the hearing and had never asked for it to be adjourned.