Woodlands View: Cylinder 'may not have started' care home fire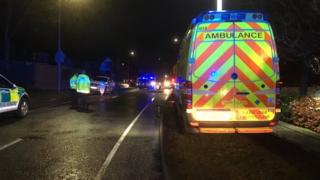 An exploding oxygen cylinder may not have started a fatal care home fire as first thought, a fire chief has said.
A resident in his 80s died after the fire at the Woodlands View home, Stevenage, on Saturday. Another person is in a critical but stable condition.
Hertfordshire County Council said there had been a "minor explosion" caused by an oxygen cylinder.
But the county's fire chief said it was unclear whether this had been the cause of the fire or a result of it.
The person currently in a critical but stable condition was in the same room as the man who died but is not a resident, Hertfordshire Fire Service said.
Five others were treated in hospital for smoke inhalation.
The blaze started at about 16:30 GMT in a room in Lucas House, one of six separate buildings in the complex in Magpie Crescent, owned by HC-One.
Chief fire officer Darryl Keen said it was a "relatively minor explosion" and added: "We're not actually sure yet whether that was the cause of the fire or was as a result of the fire and that will obviously be a key part of the investigation."
The investigation would take "a number of weeks", he said.
Conservative county councillor Colette Wyatt-Lowe, cabinet member for adult care and health, said all oxygen cylinders at the home had been removed and replaced as a precaution.
In July the Care Quality Commission (CQC) reported the home, then owned by Bupa, "required improvement" in all areas including safety.
The council said it "needed to make sure [the new owners] had started the process of improvement" and it would be carrying out its own investigation.