Milton Keynes street light cabinet vandalism costs taxpayers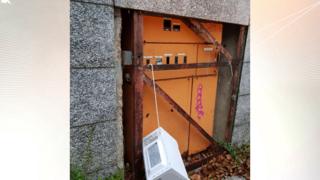 A council says it has spent thousands of pounds repairing vandalised street light cabinets, including one that was broken into to plug in a microwave.
The cabinets in Milton Keynes have been used to discard excrement and syringes, according to the local council.
Vandals have also accessed switch rooms and turned off lights in car parks, subways and on carriageways.
The council said it had spent £8,000 on cabinet repairs since January and would look to make them more secure.
As well as safety checks, repairs and maintenance, the council has had to pay for specialist teams to remove more than 100 used needles from various cabinets in the town.
A spokeswoman for the council said: "Sadly we have had to deal with a high number of incidents where the street lighting equipment has been deliberately vandalised, causing thousands of pounds worth of damage.
"A number of feeder pillars for the street lights were broken into and either the switches for the lights have been turned off or the supply has been tampered with or accessed for use including plugging in a microwave.
"The incidents have placed the public at risk with exposed power cables and street lights being out for long periods."