Three-week black bin collection plan in Bedfordshire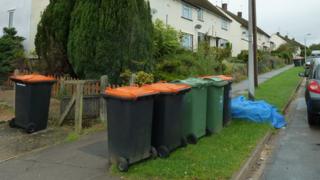 Black rubbish bins may be emptied only once every three weeks under proposals for a council to save £2m.
Central Bedfordshire Council said plans to decrease domestic waste collections, which are currently fortnightly, would help boost recycling.
Additionally, it wants to charge £40 per household for an all-year-round fortnightly collection of garden waste.
A public consultation on the proposed changes starts on 26 February and runs until 20 April.
Conservative councillor Budge Wells, deputy executive member for community services, said: "We are considering various options for change at the moment and will be consulting local residents on these options very soon.
"This is a service that every household uses, so it is really important that everyone has the opportunity to take part in our consultation."
At the moment green waste is collected every other week, but not during some winter months.
The fortnightly collection of recycling bins is not set to change, but residents can request a larger recycling bin (up to 360 litres) for free.
Plans are also in place to bring in a weekly food waste collection for everyone.