Hertfordshire alpaca farm in lockdown after hunt terror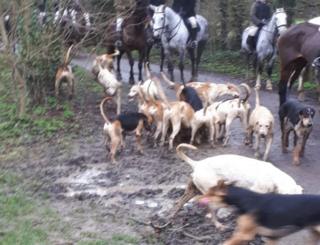 An alpaca farm in Hertfordshire has closed its doors to visitors after hunting dogs terrorised the animals.
Police were called at about 12:15 GMT on Saturday to reports that a large pack of dogs were loose and distressing about 65 animals at Herts Alpacas in Buntingford, the Hertfordshire Mercury reported.
Owner Nigel Beckwith said his priority now was to make sure the animals were "as least stressed as possible".
No arrests have been made.
Herts Alpacas at Fairview Farm has a herd of about 100 animals and relies on sales of fleeces and animals for income.
Mr Beckwith said the farm is protected by fencing and barbed wire but about 40 dogs from an as yet unnamed hunt managed to get in.
"It was totally traumatic," he said.
"They had no right to come across our land, they were trespassing and had lost control of the pack."
'Terrible effect'
Alpacas do not react well to stress, Mr Beckwith said, so all customer visits and training have been cancelled for at least a month to make sure the animals have as little stress as possible.
"There were animals everywhere, alpacas don't defend, all they do is run and when they run they get highly stressed," he said.
"As a result there is a big danger we will have some premature births or miscarriages.
"But we won't really know how they have been affected until the end of our birthing season, so until the end of September."
Mr Beckwith said he might not be able to sell the fleeces as they could have been affected by stress and he did not want to sell animals that might miscarry.
"What happened will have a terrible effect on our business for the rest of this year," he added.
Hertfordshire Police said it had spoken to all parties involved and enquiries were continuing.
The force said it would be monitoring the animals' "post-incident welfare and assessment".