Royston fire engine pedestrian death accused in court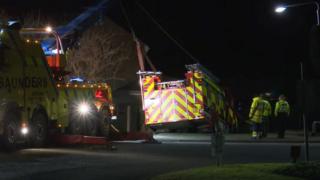 A fireman has appeared in court accused of causing the death of a pedestrian who was hit by a fire engine responding to an emergency call.
Mitchell Bailey, 58, died when he was struck at a roundabout in Royston, Hertfordshire, on 18 January 2017.
David Williams, 47, who gave his address as Fire Station House, Baldock Street, Royston, has been charged with causing death by careless driving.
Stevenage magistrates adjourned the case for three weeks.
He will next appear before magistrates in St Albans on 27 February.
Counsel for defence, Rachel Tandy, said the Crown Prosecution Service had only just supplied new information to him and time was needed to consider it before advising him of any plea.
Mr Mitchell, a father of three, died when he was hit by the red Scania engine on a roundabout at the junction of Old North Road and Burns Road, close to Tesco.