Body found by High Wycombe 'makeshift camp' identified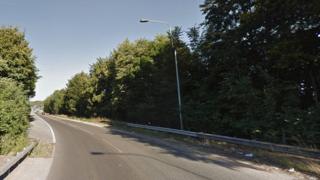 Human remains found near a "makeshift camp" by a roadside have been identified by DNA, an inquest heard.
The "significantly decomposed" body of John Barry Norburn was found near the Handy Cross roundabout in High Wycombe on 4 February 2017.
It was likely he died in the late summer or early autumn of 2016, Beaconsfield Coroner's Court heard.
Recording a narrative conclusion, coroner Crispin Butler said it was not possible to know how Mr Norburn died.
He added there was "no specific evidence" of third party involvement in the death.
The inquest heard the 69-year-old's movements in the past 20 years were "uncertain", but his place of birth is listed as Don Valley, south Yorkshire.
A High Wycombe resident and two police officers discovered the remains while looking through nearby woods and shrubbery for a missing dog, as reported in the Bucks Free Press.