Hill End Hospital Adolescent Unit: Referrals continue in mental health abuse probe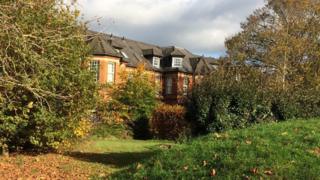 About 60 people have come forward since an investigation into reports of physical and sexual abuse of child patients at a mental health unit began last year, police have said.
The abuse allegedly took place at the Hill End Hospital Adolescent Unit in St Albans between 1969 and 1995.
The force said there was "no timeline" for the probe to end and it was "continuing to gather evidence".
"This is a very complex and challenging case," a spokesman said.
"We are continuing to gather information and evidence in relation to the adolescent unit and the experiences of those who stayed or visited there."
Hill End Hospital, on the outskirts of St Albans in Hertfordshire, operated from 1899 to 1995, caring for people with mental health problems. It no longer exists and a housing estate was built on the site.
'Proper look'
Hertfordshire Police announced in November it was investigating non-recent child abuse at the unit and said the number of victims involved was unclear.
At the time, the officer leading the probe said it was not a particular report that set it off.
Assistant Chief Constable Bill Jephson said the force had started to review information from a number of sources and looked at records from the 1970s and 1980s, when it was decided it "needed a proper look".
"We have gone back and looked at if we joined the dots," he said.
"Sometimes you just get a feeling that we need to lift the lid and have a proper look at it with a dedicated team."
A team of specially trained officers are conducting inquiries.
Those who believe they have been a victim of this type of abuse are encouraged to contact the police.
No arrests have been made but Mr Jephson said if anyone was found to be currently at risk, mechanisms were in place to respond.