Hertfordshire alpaca farm owner denies hunt apology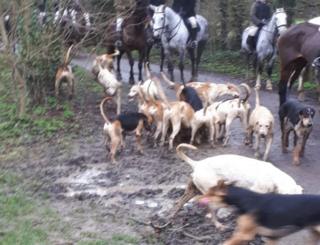 The owner of an alpaca farm has denied he got an apology from a local hunt after claiming dogs got on to his land and terrorised the animals.
Police are investigating after a large pack of dogs were reported to have distressed about 65 animals at Herts Alpacas in Buntingford on Saturday.
The Puckeridge Hunt said some dogs "unexpectedly entered the property" and it "apologised immediately".
Owner Nigel Beckwith said he had not received "any contact".
A spokesman for the hunt said it "stood by its original statement".
Herts Alpacas at Fairview Farm has a herd of about 100 animals and is protected by fencing and barbed wire but about 40 dogs from the hunt managed to get in, Mr Beckwith said.
The experience was "totally traumatic" and left the alpacas "highly stressed", he added.
'Totally unacceptable'
The Puckeridge Hunt said it had been "trail-hunting within the law" when "regrettably it appears the scent of our trail must have drifted from where it was laid and some hounds unexpectedly entered the property".
"We removed the hounds as quickly as possible and apologised immediately to Mr Beckwith for this unintended access on to his property," a statement said.
"We have repeated this apology and are hopeful there will be no lasting damage to his alpaca herd.
"However, we have been very open with Mr Beckwith and requested that if there are any further concerns then he should immediately raise them with the Puckeridge Hunt."
Mr Beckwith said the statement was "totally unacceptable".
"They have not had or made any contact with us or entered into any form of dialogue or made any form of formal apology since this terrible event happened," he said.
He said he had not been given "any guarantees that it will never happen again".
Hertfordshire Police said no arrests had been made and inquiries were continuing.