Private Ambulance Service needed 'more checks'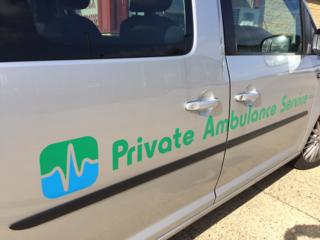 Better checks were needed on a private ambulance firm that went into liquidation, an NHS director has said.
The Bedfordshire Clinical Commissioning Group (CCG) said it was now paying £400,000 a year more for non-emergency patient transport.
The service run by the Essex-based Private Ambulance Service (PAS) has been taken over by the East of England Ambulance Service Trust (EEAST)
Alan Streets, of the CCG, said checks on PAS had not been "detailed enough".
Mr Streets, who is director of contracts, said the new deal covering Bedfordshire and Hertfordshire was costing about £2.8m over two years.
PAS ceased trading in October.
'Identify failings'
"When we appointed PAS we did a quick due diligence and, with hindsight, we should have done a far more detailed one and we have done that with the East of England Ambulance Service," he said.
The checks were "not detailed enough" compared to the three months of "due diligence" done before awarding the contract to EEAST.
"With the new contract, we are getting information faster and better to allow us to identify where there are failings in the service and to force the provider to remedy them as quickly as possible," he said.
"The CCG is sorry for those patients who had poor experience with the PAS.
"What we are hoping for and planning for with this new service they will see a significant improvement in the service delivered to them."
One user of the service, from Luton, told the BBC he had seen an improvement since the contract had changed hands.
He said the new service was much better - "professional, understanding, extremely helpful and supportive".