'Dead' hamster found alive in Aylesbury wheelie bin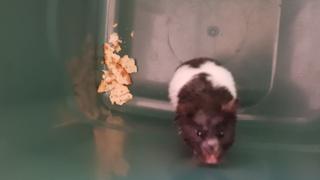 A hibernating hamster which was presumed dead by its owners has been found "alive and well" in a wheelie bin.
Aylesbury Vale District Council's waste collection team opened the lid of a refuse bin to find the small black and white creature on 31 January.
The team brought the animal, which they named Dusty, back to their base and made a temporary home for him.
A pet shop helped care for the hamster until it was reunited with its owners.
The owners were said to be "surprised" by the find as they put the hamster in the bin thinking it was dead.
It is thought the hamster was in fact hibernating.
A spokeswoman for the council said: "The hamster has now been reunited with his owners who are delighted with his return."