Mourners 'angry' at delays to Luton cemetery refurbishment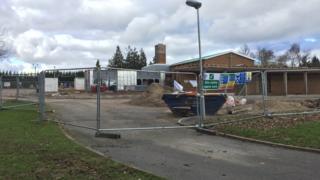 A council has "apologised" after delayed refurbishment to works to a cemetery chapel caused "upset" for mourners.
Works to expand the main chapel at the Vale Cemetery and Crematorium in Luton stalled when a developer went into liquidation.
Some mourners said the works and delays were "upsetting" and "disgraceful".
A spokeswoman for Luton Borough Council said services are still taking place at the crematorium.
An "in-house team" has been brought in to complete the work, which should be finished by the end of April, she said.
In response to the delays, widow Lynda Powers, from Luton, said on Facebook: "I have waited five weeks for my husband's funeral.
"I think it disgraceful. It has been awful.
"My husband's death was sudden and unexpected and I am feeling such anger that my husband lays there waiting for five weeks."
Barry Sillars, whose wife died aged 51 on 30 January, said: "The earliest booking we could get at what we would consider a reasonable time of 15:00 GMT on 1 March.
"The other thing that is upsetting, we have visited the crematorium on few occasions and it is a mess up there."
Alex Constantinides, service director at Luton Borough Council, said: "I apologise for any distress any of the works are causing to families and loved ones."
He said they are "trying their level best" to resolve the problems but he has "no details" why there are delays of up to five weeks.
A spokeswoman for the council said ""We would like to reassure local people that services at the Vale Crematorium are very much taking place.
"It is only the larger chapel that has been affected by the works."
They said services are also taking place at St Thomas Church in Stopsley and they have added in Saturday slots.
Waiting times for services at The Vale are normally between two or three weeks, said the council.