Luton al-Quds Day poster graffiti investigated by police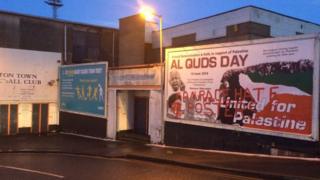 Police are investigating after a billboard advertising an al-Quds Day rally was vandalised in Luton.
Bedfordshire Police is appealing for information after graffiti was written over the poster, in Maple Road East, outside Luton Town Football Club.
Also known as Jerusalem Day, al-Quds Day originated in Iran in 1979 and the poster was billed as "United for Palestine".
The words "ban race hate posters" were daubed over it. It has been taken down.
The poster advertises and rally and march in London on 10 June.
'Censors free speech'
Det Con Victoria Cunningham said: "Criminal damage of any kind will not be tolerated.
"We believe there were a number of witnesses to this incident and I would urge them to come forward so that we can find the person responsible."
A Luton Borough Council spokeswoman said: "Following discussions involving the billboard operator, the police and Luton Town Football Club, where the billboard is sited, the advertisement has been removed.
"Luton is a place where partners work together to support community harmony and cohesion, and we trust this matter has been brought to a conclusion."
However, Reza Kazim, from the Islamic Human Rights Commission (IHRC) which is behind the poster, said it "is not dividing the community" and the removal of it "censors free speech".
Mr Kazim said the IHRC was not involved in the discussions to remove the poster, and they would be looking at putting up a replacement one.
He said a similar poster was still up on Selbourne Road in Luton.
A spokesman for Luton Town Football Club said: "Although the billboard site forms part of the stadium's boundary, we have absolutely no control over the advertising content displayed.
"Luton Town Football Club is a completely apolitical and areligious organisation. Indeed, we encourage all differences to be forgotten when entering our facilities."