Dunstable airfield drone 'left glider no time to respond'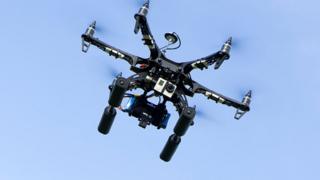 A drone flying above the recommended height near an airfield "endangered" aircraft, passing close to a glider.
The gilder pilot reported that the drone came within 20-50m (65-164ft) of their aircraft on their approach to Dunstable, Bedfordshire, at a height of 550ft (168m) on New Year's Day.
The Civil Aviation Authority recommends they fly at no more than 400ft (120m).
The UK Airprox Board said had the drone been on a "collision course" the glider would have been unlikely to respond.
It rated the risk of collision as "A", the highest possible level, and said "the drone was flown into contact with the glider".
The report added that because of overcast weather, the grey drone was difficult to see.
It passed "rapidly" below and to the right-hand side of the ASK21 glider, leaving the pilot "no time to take avoiding action".