Yarl's Wood Centre detainees 'desperate'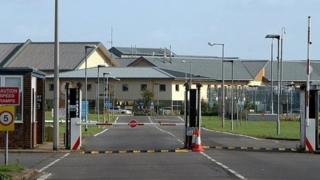 Detainees at an immigration removal centre are in a "desperate" situation, according to the shadow home secretary.
Diane Abbott visited the Yarl's Wood Centre in Bedford on Friday and raised concerns in Parliament on Monday.
The Labour MP accused the government of ignoring women who are on "hunger strike" at the centre.
The company which runs the centre, Serco, said some women were refusing to eat in the restaurant, but that it was not a hunger strike.
The facility in Bedfordshire houses adult women and family groups, as well as a small number of men who arrived in Britain as "clandestine migrants" on freight lorries.
'Duty of care'
Ms Abbott asked the home secretary Amber Rudd for a meeting to discuss her findings.
Speaking in the House of Commons, Ms Abbott said there were "victims of trafficking and sexual abuse" being held at Yarl's Wood "contrary to government undertakings".
"The women of Yarl's Wood are desperate and we owe them a duty of care," Ms Abbott said.
The home secretary said she was happy to meet with Ms Abbott.
Ms Rudd said: "We take the health of everybody in any detained centre very seriously.
"There are high levels of standards there and if there are any examples otherwise I will always take a look at them."