M1 crash deaths: Driver may have been 'on autopilot'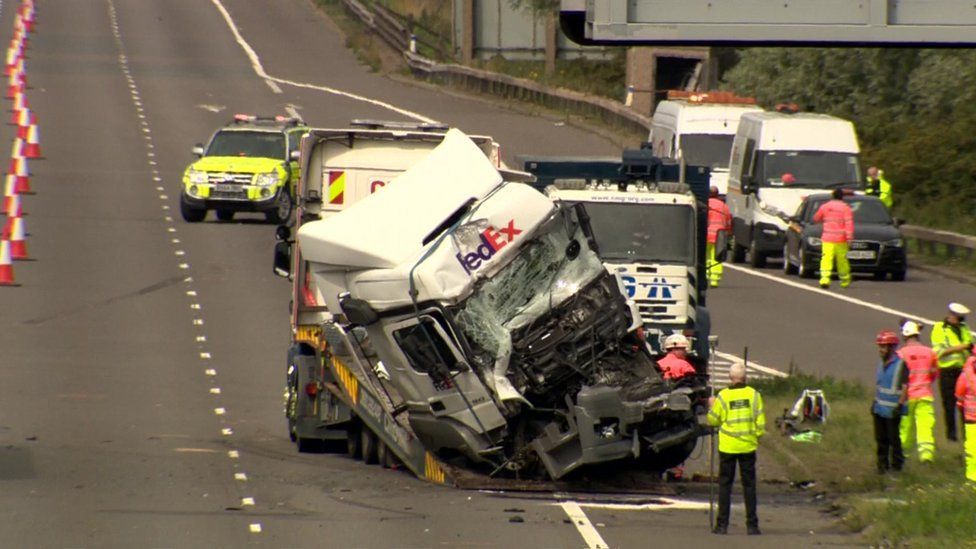 A driver who crashed into a minibus killing eight people was suffering "inattentional blindness", a court heard.
A collision investigator said the phenomenon happened when someone was concentrating on something else, like a mobile phone conversation.
Driver David Wagstaff, 54, admitted a "lack of concentration" in the crash on the M1 near Milton Keynes in August.
Reading Crown Court heard he had been on a hands-free call for about an hour.
Mr Wagstaff has admitted four counts of careless driving.
He was talking and driving a Fed Ex lorry when it smashed into the back of the minibus causing the fatalities.
Defence collision investigator Robert Wagstaff, who is not related to the defendant, told the court that he thought he was on "autopilot".
He described "inattentional blindness" as something in which an individual without any visual problems failed to see something in plain sight.
Minibus driver Cyriac Joseph, who was taking passengers to London for a trip to Disneyland Paris, was waiting with his hazard lights on for the chance to go past another lorry driven by Ryszard Masierak.
Mr Masierak, 32, had allegedly stopped on the inside lane of the M1 near Newport Pagnell at about 03:00 BST, despite there being miles of hard shoulder available, the court heard.
In a police interview, Mr Wagstaff of Derwent Street in Stoke-on-Trent said he "never expected" to catch up to the minibus and lorry, saying "lack of concentration, that's all I can say", the court heard.
The eight people killed - six men and two women - were Mr Joseph, Panneerselvam Annamalai, Rishi Ranjeev Kumar, Vivek Baskaran, Lavanyalakshmi Seetharaman, Karthikeyan Pugalur Ramasubramanian, Subramaniyan Arachelvan and Tamilmani Arachelvan.
Four other minibus passengers, including a four-year-old girl, were seriously injured.
Both Mr Wagstaff and Mr Masierak deny eight counts each of causing death by dangerous driving, and four counts each of causing serious injury by dangerous driving.
Mr Masierak, of Barnards Close, Evesham, Worcestershire, faces a further eight charges of causing death by careless driving, while over the prescribed alcohol limit.
Related Internet Links
The BBC is not responsible for the content of external sites.