Zena Skinner, TV chef and author, dies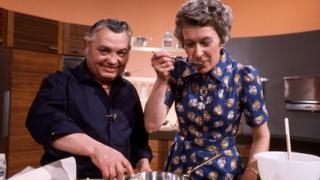 Tributes have been paid to the television chef and writer, Zena Skinner, who has died at the age of 91.
Ms Skinner, from Redbourne in Hertfordshire, appeared on several BBC shows in the 1960s and 1970s, including Town & Around and Ask Zena Skinner.
She also founded the Keech Hospice Care in Luton and raised £100,000 for the charity over 26 years.
She died on Tuesday and had been "ill for some time" said a hospice spokeswoman.
During World War Two she served in the Women's Royal Naval Service.
She regularly wrote in the Radio Times, and published several recipe books, including 100 More Town & Around Recipes, Zena Skinner's Cookbook, Recipes for Every Occasion, Take Stock and was an author of the Reader's Digest publication The Cookery Year.
In 1969 she appeared on Desert Island Discs. Unfortunately this is not available on the BBC's programme archives, but her entry does list her favourite song as Climb Every Mountain by Peggy Wood.
She also opened Luton Market in 1972.
Liz Searle, chief executive of the hospice charity, said: "We are deeply saddened by Zena's death.
"Keech Hospice Care owes Zena an enormous debt of gratitude for all the time, involvement and devotion she has given over several decades, and it was a privilege for us to provide support for her in the final weeks of her life, including celebrating her 91st birthday with her.
"Zena will be greatly missed by everyone who knew her, and our thoughts are with her family at this sad time."
People have been adding their tributes on social media.