Knuckle-duster attack woman 'let down by system'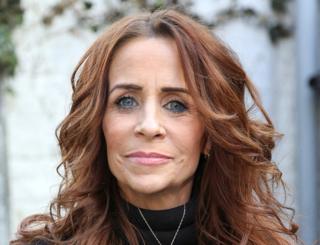 A woman left with four metal plates in her face after being punched by a man with a knuckle duster said she has been "let down by the system" as her attacker was jailed for 18 months.
The blow to Belinda Price, 53, from Welwyn Garden City, shattered the bones in her face, her nose and eye socket.
Nicky Sandwell, 26, of Wheatley Close, was jailed after admitting the attack on four people including Ms Price.
Charlie Temple, 25, of Knella Road, was also jailed over the attack.
After the sentence was handed down, Ms Price released graphic images showing the extent of her injuries.
'Prisoner in own home'
A punch to the face fractured her left cheek bone in three places and shattered her left eye socket.
She lost all feeling on one side of her face, which has still not returned six months after the attack on 27 August.
Ms Price has double vision in her left eye and needs more surgery on the socket to hold the eyeball in place. She said she also feels like "a prisoner in my own home".
St Albans Crown Court heard she visited the home of Patrick Casey, 57, in Wheatley Road, Welwyn Garden City at about 18:00 to drop off a wallet belonging to Mr Casey's son Francis.
Sandwell and Temple, who had been drinking, knocked on the door and asked for some tissues as Temple, who had fallen out with Mr Casey's son, had cut his arm.
Mr Casey was then grabbed in a headlock and punched in the face, falling to the ground unconscious.
Sandwell struck Ms Price and Temple also attacked Francis Casey and his girlfriend before stealing £20.
'Not long enough'
Sandwell admitted wounding Patrick Casey with intent and inflicting grievous bodily harm on Ms Price.
Temple pleaded guilty to grievous bodily harm, burglary and two charges of common assault.
Passing sentence, Judge Andrew Bright QC called it a "horrific attack" and jailed Temple for 27 months and Sandwell for 18 months. Both must serve half their sentences before they are released.
Ms Price said: "I feel let down by the system... at the end of it all to hear he will only be in prison for nine months for what he did to me has come as a shock.
"Nine months is nothing for what I've been through... It's just not long enough."