Man who crashed into sister in Hoddesdon 'in shock'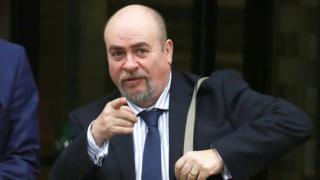 A man who knocked over his sister with his car and drove off, leaving her lying on the ground, was "overtaken by shock and panic", a court has heard.
Carmelo Pappalardo, 57, is accused of deliberately driving into Anna Sciara in Hoddesdon, Hertfordshire, after a "blazing" family row.
St Albans Crown Court was told the relationship with his sisters had turned "cold".
Mr Pappalardo denies attempted murder and grievous bodily harm with intent.
He told the jury Mrs Sciara stepped into the road between parked cars with a phone to her ear, but he could not see who the figure was.
Mr Pappalardo, of Hatfield Broad Oak, Essex, said: "I didn't have time to take any action. I saw this figure go up into the air."
The court heard Mr Pappalardo skidded to a standstill and it was only when he turned to look behind him that he realised the person he hit was his sister.
The jury heard Mrs Sciara suffered multiple fractures to her pelvis, hairline fractures to her ribs and internal bleeding.
Mr Pappalardo said he was "overtaken by shock and panic" and drove six miles away where he abandoned his car.
After catching a bus back, he told police what he had done.
The events happened after a row allegedly broke out on 21 April last year, when sisters Mrs Sciara and Rita Pappalardo visited their father's house.
Their brother refused to allow them to put up photographs of themselves with their father at the house, the jury heard.
He is also alleged to have taken hold of Ms Pappalardo's throat.
The trial continues.