Bedfordshire religious group accused of death 'cover-up'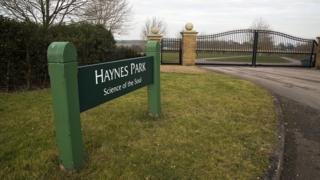 A religious group attempted a "cover-up" when a man died after falling from scaffolding in its meeting hall, a court has heard.
Amrik Blaggan, 57, died in hospital two days after the fall at the Science of Soul Centre in Haynes Park, Bedfordshire, on 4 April 2014.
The scene was cleared despite the group being told to leave it untouched, Luton Crown Court heard.
Science of the Soul has pleaded guilty to health and safety offences.
Prosecutor Michael Vere-Hodge QC said the meeting hall had been constructed in either 2009 or 2010, without planning permission.
"It was built by people who volunteer time and labour without pay as part of their spiritual advancement," he said.
'Grossly unsafe'
A technician had been called to the centre to fix the lighting system in the roof of the new building, the court heard.
The technician stayed on the ground while Mr Blaggan, a volunteer at Science of the Soul, climbed a mobile scaffold and called out the lighting numbers.
Mr Vere-Hodge said this scaffold was "grossly unsafe by anybody's reckoning".
"It was tied in parts by blue rope and the top rail was rope as opposed to a metal bar," he said.
Members of the Science of the Soul group were supervising Mr Blaggan while he was on the scaffolding, including an 80-year-old man with poor eyesight.
The father-of-two from London lost his balance while holding on to a ceiling a tile. He fell to the ground with a "thud" and sustained serious head injuries.
Mr Vere-Hodge said police and paramedics were called but alleged there was an "attempted cover-up" as the scaffold had been removed and the roof repaired before investigators arrived.
Trustees of Science of the Soul have pleaded guilty to failing to discharge a duty under the Health and Safety at Work Act, but Judge Barbara Mensah will make a ruling after hearing evidence.
The hearing continues.