Sisters' portrait returns to Wrest Park stately home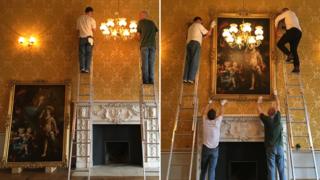 A 17th Century painting sold after its owner died in World War One has returned home after 101 years away.
The portrait of sisters Jemima, Airmine and Elizabeth Crew belonged to Wrest Park near Silsoe in Bedfordshire for more than two centuries.
It was in "pretty poor condition" and needed restoration after it was given to English Heritage in 2016.
Wrest Park and its contents was sold in 1917 by Nan Herbert, a year after her brother Lord Lucus was killed.
The reconnaissance pilot was injured by bullets from a German fighter aircraft and died of his wounds.
Nan Herbert, who had run Wrest Park as a wartime hospital until a fire in 1916, decided to sell the house. The contents were sold through Christie's.
The picture, painted in about 1682 by the artist Jacob Huysmans, was the third highest selling lot in the sale, selling for £504.
After nearly a century in private hands, it was given to English Heritage in lieu of inheritance tax.
It originally came to Wrest Park when Jemima Crew married Henry Grey, Duke of Kent.
The charity's senior collections conservator Rachel Turnbull said it was "heavily discoloured with a dirty varnish layer" and needed 300 hours of conservation.
An X-ray revealed a cherub had been painted over, but after further investigation it appeared the cherub's face was unfinished.
She said this suggests "the artist either changed his mind, or Thomas Crew didn't like the first composition".
Dr Peter Moore, curator of collections for English Heritage, said that with very few items original to the property after the 1917 sale, the return of this portrait was "fantastic".