Bedford prison doctor suspended for dishonesty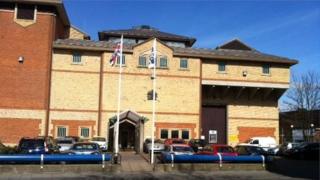 A prison doctor has been found guilty of misconduct and dishonesty for practising without a licence.
Dr Gabriel Okey had worked without a valid licence for six weeks, including a stint at HMP Bedford.
The Medical Practitioners Tribunal Service found he "knowingly" continued to work after his licence was revoked in April 2016 and "abused his position of trust".
He was suspended for a year by a tribunal.
The General Medical Council (GMC) said from January 2016 it had contacted him by mail to say it had not received a recommendation to revalidate his licence, and it was revoked three months later.
The tribunal heard Dr Okey's employment had transferred to the Northamptonshire Healthcare NHS Foundation Trust (NHFT) in April 2016 after it took over the prison contract.
'Stressful'
The trust informed the GMC that Dr Okey had been practising without a licence.
The tribunal found that while trying to get his licence restored, Dr Okey requested changes to his job at the prison.
During the six weeks in which he worked without a licence, the tribunal found no clinical concerns or patients who had come to harm.
It also said it took into account the "stressful" nature of working in prisons, the "upheaval" of the change of NHS employer, and the death of a close family member in Zambia.
It concluded that the seriousness of the his misconduct required immediate suspension "to protect public confidence in the medical profession".
Dr Okey has the right of appeal.