Lights plan for historic Marlow bridge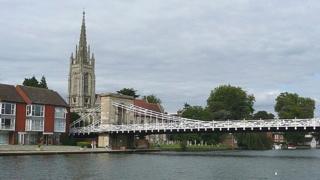 Plans to revamp an historic bridge in Marlow in Buckinghamshire have been proposed by the town council.
The suspension bridge, completed in 1832, was designed by William Tierney Clark, who also designed Hammersmith Bridge in London.
Marlow Town Council has written to Buckinghamshire County Council asking for permission to install new lights.
Town mayor Jocelyn Towns said the scheme was likely to cost £35,000.
"It's an iconic bridge and an important part of the town," she said.
The money will be raised either through sponsorship or town council reserves.
The bridge was lit up until about 15 years ago when the lights were vandalised.