Koy Bentley murder trial: Mother's knife 'may have killed her son'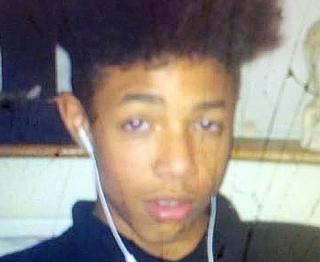 The kitchen knife that killed a 15-year-old boy is likely to have belonged to his own mother, a court has heard.
Koy Bentley was stabbed at a flat in Water Lane, Watford, on 5 June and a jury was told his injuries were likely to have been caused by a white knife.
His mother, Sharon Bentley, told St Albans Crown Court she had bought the knife in a set and found it in Koy's bedroom two weeks before his death.
A 16-year-old boy, who cannot be named, denies murder.
The court had previously heard Koy and the other teenager were dealing heroin and crack cocaine in the flat before Koy was stabbed through the lung and heart after an apparent "disagreement".
Sharon Bentley said the white knife was shown to her by police after her son's death and told the court in a statement: "It is the same knife I found in his bedroom two weeks before his death.
"He said he had found it under his bed. I put it back downstairs in the knife drawer."
The court was previously told a 22-year-old man, who cannot be named, was in the flat with the teenagers at the time, as were two young women who were in a bedroom taking drugs.
The man, who said he was "sorting out" money and drugs on the sofa, said he heard a "thud" before he saw the accused with a knife that had blood on it in his right hand.
The defendant apologised to Koy after he saw the blood pouring from under his armpit and sat him back down in the chair, the man said.
The accused, from north London, has denied murder but pleaded guilty with the 21-year-old man that they conspired together, and with Koy, to supply a controlled Class A drug.
The 22-year-old man, who cannot be named, also pleaded guilty to perverting the course of justice by instructing one of the women to lie to the ambulance crew about how Koy had received his injuries.
The trial continues.