George Michael plaque unveiled at Bushey Meads school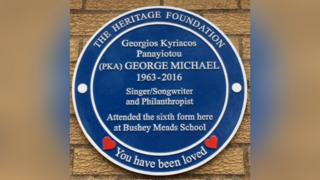 A blue plaque celebrating pop star George Michael has been unveiled at his former school in Hertfordshire.
The singer-songwriter met Andrew Ridgeley at Bushey Meads School sixth-form before the pair went on to form Wham! in the 1980s.
Terry Daniels of the George Michael Appreciation Society, who organised the installation, described it as "a dream come true".
The school's executive principal Jeremy Turner said it would "inspire" pupils.
George Michael - whose real name was Georgios Kyriacos Panayiotou - moved to Bushey with his family when he was a teenager.
Michael and Ridgeley, with backing singers Pepsi and Shirlie, had a string of hits in the 1980s.
Michael went on to have a total of seven UK number one singles as a solo artist and the same number of chart-topping albums.
He died of natural causes at his home in Goring-on-Thames, Oxfordshire, on Christmas Day 2016, aged 53.
Hertsmere deputy mayor Brenda Batten, who unveiled the plaque, said she met the young George Michael when Andrew Ridgeley was her paperboy.
"Andrew was with George - I didn't realise it was George Michael at the time, obviously - they came to collect Andrew's Christmas bonus.
"It was quite apt and it did mean a lot [to unveil the plaque]. I was a big fan of Wham! and of George Michael."
A fan from Spain - known only as Amalia - was among many who shed a tear at the unveiling.
"He's so much more than George Michael the pop star. I've grown up with him, he's the soundtrack to my life," she said.
Mr Turner added the event tied in with the unveiling of the school's new music department.
"The plaque will be part of our culture, part of our ethos for years to come and pupils will be inspired by it," he said.
Last year, a dilapidated scout hut in Bushey, where George Michael played his first gig, was restored.