Dunstable woman told police she 'shot burglar with crossbow'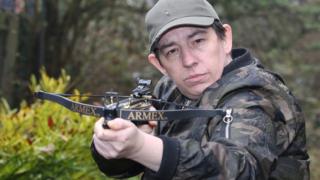 A woman told police she shot a burglar with a crossbow after four armed men entered her home.
The occupant, Anji Rhys, said she ran to grab her crossbow before shooting one of the men.
Bedfordshire Police were called to a report of a burglary in Dunstable on 12 March after the men forced entry to a home.
Police were then told of the incident, but said they have so far been unable to trace any injured party.
Ms Rhys, 49, who shares the home with her partner Rebecca McCarvel, 42, son Dillon, 22, and her elderly mother, said the men were shouting.
She claimed she kept the weapon in her house to protect her family, and after hearing the door being broken down, "was met with a masked man with a hammer".
"I ran and grabbed my crossbow and had a little tussle with a second man who had a machete," she said.
"He went to grab it, but I managed to spin and shoot him in the belly with it at close range."
The gang then fled in two separate directions, and police have appealed for information.