Luton fast food owner jailed over drugs in takeaway bag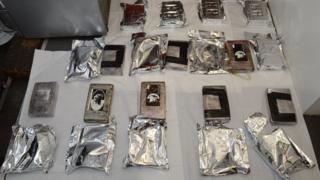 The owner of a takeaway grill who used his shop as a cover to store £1.5m worth of cocaine has been jailed.
Shahraz Khan, 37, from Sherwood Road, Luton, was found guilty of possession of class A drugs with intent to supply.
Some 15kg (33lb) of high-purity cocaine was discovered in a sports holdall in the kitchen of the Peri Peri Grill House on Midland Road and in a brown takeaway bag.
Khan was jailed for 16 years at Luton Crown Court.
Khan was arrested as he left his takeaway shop last October. Some 13kg (29lb) of cocaine was stashed in an Adidas sports holdall with the rest hidden in the takeaway bag.
Douglas Page, prosecuting, said that the drugs had only recently arrived in the UK from South America.
Graham Jones, defending, said Khan and his wife had been hoping to go on a course of IVF treatment to help them have a child, but this was now uncertain.