Grant Shapps calls for GTR to lose franchise immediately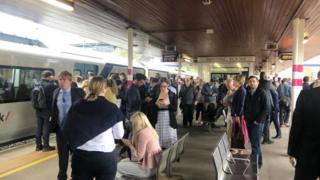 A former Conservative party chairman has called for a train operator to be immediately stripped of its franchise after delays and cancellations.
Govia Thameslink Railway (GTR) has been criticised by passengers, politicians and unions after it introduced new timetables this week.
The MP for Welwyn Hatfield Grant Shapps said the company must be "breaching [its] contract".
Transport secretary Chris Grayling said it was a "major teething problem".
But he added that ultimately the changes would be a "step forward for the railways".
'Not good enough'
The firm operates Great Northern, Thameslink, Northern and Southern running services to Bedford, Luton, Peterborough, King's Lynn, Cambridge, London King's Cross, London Moorgate, Wimbledon and Brighton.
"We want the secretary of state to look at ending the franchise now rather than in 2021," Mr Shapps said.
Mr Grayling told the House of Commons the number of delays and cancellations was "not good enough" and said his department was working hard to sort the problem.
GTR said it had rescheduled every train in its franchise in an attempt to improve rail efficiency.
Chief operating officer Nick Brown said it was a "hugely complicated task" and he was "sorry for the disruption".
"It has been a little more difficult than we thought and it is going to go on for some weeks," he said.
"There are some skills gaps of getting drivers with the right knowledge in the right location.
"While we have enough staff, until we can get them fully trained across the new routes that we're operating it will continue to be difficult."
Meanwhile passengers have been venting their frustration on social media.
Great Northern passenger, Keiran Walker, tweeted: "7:38 from Royston has seen people crushed on board and nobody can get on. The same every day! This is so so much worse!"
Bedford commuter Damien Stephenson said his train was cancelled then the delayed train he caught terminated without explanation at St Albans and everybody had to "cram" on to the next one.
"Delays and cancellations are pretty standard, but this is at least twice in three days that a train has kicked everyone off at St Albans and then continued on empty," he said.