Dunstable mum paints 'disgusting' dog poo in protest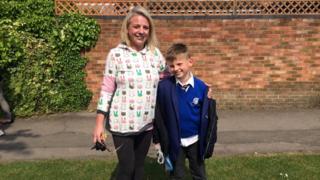 A mother has said she spray-painted "disgusting" dog mess, to stop other children from treading in it.
Emma Addison, from Dunstable, Bedfordshire, took the action after her nine-year-old son Caolan, came home from Ridgeway Avenue Park "covered from head to toe in dog faeces".
"I grabbed a can of spray paint and went and sprayed it all," she said.
Dunstable Town Council said there were dog mess bins in the park and it blamed "irresponsible dog owners".
Ms Addison, who describes herself as a "responsible dog owner", said the mess was all over her son's school shirt and shorts.
'Disgusting'
She said she was left frustrated and lost her temper because it was the second time it had happened.
Using the white paint "highlights it to the children and stops them from treading in it".
"It is just disgusting, children play there before school, it has even been left outside the school gates," she said.
Since taking the action she said she has been inundated with support from friends, neighbours and her son's school.
"I feel like something is now being done, and I have even had offers of help to carry on doing it from people," she said.
In a statement Dunstable Town Council said: "We manage our parks very well, provide dogs bins and put up signage, but unfortunately there are some irresponsible dog owners who do not pick up after their dogs."