Soul Survivor summer festival to end in 2019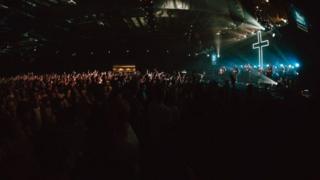 One of the UK's largest Christian youth summer conferences, Soul Survivor, is to end next year.
The events began in 1993 and about 20,000 people are expected at this year's camps, based in Stafford, Peterborough and Scotland.
Founder Mike Pilavachi, who also leads the Soul Survivor church in Watford, said while the decision may come as a "surprise" it was not "taken lightly".
He added it was time to "make space for others to rise up".
The camps aim to offer "events that encourage and equip young people in their relationship with Jesus" according to its website.
The plans also include bringing an end to the Naturally Supernatural camp, which will take place in Stafford this year, at the same time.
The decision was reached unanimously between Reverend Pilavachi, the Soul Survivor leadership team and the board of trustees.
Mr Pilavachi said in a message to attendees: "Right from the start of Soul Survivor we always said that when God told us to stop, we would. We believe that time has come."
The organisers said there was no financial reason for stopping the camps.
Soul Survivor currently employs 24 staff and a redundancy process will begin to provide support for those affected.