Stevenage near-miss pilot 'did not see other plane'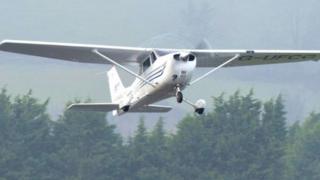 A pilot reported a "high risk" of collision after coming into proximity with another aircraft over Hertfordshire, an investigation found.
A De Havilland DHC1 Chipmunk (DHC1) and a Cessna 172 Skyhawk (C172) were flying near Stevenage on 28 December.
The DHC1 pilot said he had not been closer to another aircraft in 40 years of flying.
An Airprox report said safety "may have been compromised" and it was likely one pilot had not seen the other.
The DHC1 pilot said he saw the C172 approaching and made a "hard pull up" so the other aircraft could pass below and he viewed it as a "high" risk of collision.
'Student pilot'
In the C172 was an instructor and a student pilot. The instructor said he did not believe there was a risk of collision, but as he was "not comfortable" with the proximity of the aircraft, he took control and lowered the nose.
He said the other plane was far enough away that he could not observe its colour, type or registration.
The Airprox report said the disparities were most likely because the C172 pilot "had not seen the DHC1" and was describing a different incident with another aircraft.
The DHC1 pilot said he was looking at a ground feature for 15 seconds before looking ahead and noticing the other aircraft.
The report said this "may have compromised effective lookout" and the planes were separated by less than 0.1 miles laterally and 100ft (30.5m) vertically.
It said there was no controller overseeing that airspace and the "pilots were responsible for their own collision avoidance".
The report concluded it was a category B incident caused by "a late sighting by the DHC1 pilot and probably a non-sighting by the C172 pilot".