'First colour-printed book' returns to St Albans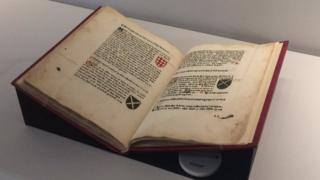 A book thought to be the first to be printed in colour in the UK is returning to the city where it was produced for a new exhibition.
The Boke of St Albans: Hawking, Hunting and Heraldry, was printed by the "schoolmaster printer" at the St Albans Press in the city in 1486.
It has been lent to the new St Albans Museum and Gallery by the University of Cambridge for its opening exhibition.
Called First Impressions, it looks at the city's printing history.
The new £7.75m museum opens on Friday in the city's Grade II-listed Georgian town hall.
First Impressions looks at printing in St Albans since 1479, when the Abbey Gateway, now part of St Albans School, became home to the third printing press in the country and the St Albans Press supplied the University of Cambridge with texts.
It shows how the city was affected by the exodus of printers from London in the 19th and 20th centuries up to the closure of the last big firm, Eversheds, in the 1990s.
It includes the story of the firm Gibbs and Bamforth, which, when partnered with Home Counties Newspapers, printed World War Two propaganda, including a fake Daily Telegraph specifically for Hitler's deputy Rudolph Hess with an article designed to undermine him.
'Little-known'
Eight known books were printed on the city's first press by a man known as the "schoolmaster printer", as his identity is uncertain, who appears on the council's crest.
Six were in Latin, one was the Chronicles of England by Thomas Walsingham and the last was the Boke of St Albans, partly written by Juliana Berners.
The University of Cambridge believes the book, which contains three essays, is the first colour printed book in the UK, and has listed its former owners online.
The Boke of St Albans
The book contains three sections: The Book of Hawking, The Book of Hunting and The Book of Heraldry
The Book of Hawking provides information regarding the capture and rearing of hawks, the illnesses that afflict hawks and how to treat them
The Book of Hunting describes all aspects of hunting. It also includes the oldest known list of collective nouns - a medieval list of nouns for the various human and animal participants in hunting
The Book of Heraldry describes and illustrates the coats of arms of English families at the time
There is a debate over who wrote the book. The author is usually named as Dame Juliana Berners, the prioress of Sopwell Priory in St Albans, and there is a reference in the book to her writing the final section
Curator Sarah Keeling said: "Printing is an important part of the history of the town and a little-known story.
"There's a real enthusiasm in St Albans for the history of this industry as a lot of people who worked in it are still around."