Jamil Sarki murder: Stab victim was 'collecting money'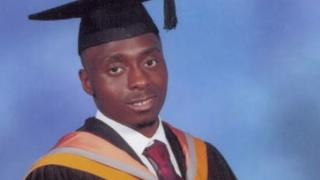 A man who was fatally stabbed in the heart had travelled from London to "collect money for a friend", a court heard.
Four men have denied murdering Jamil Sarki, 23, from London, who died on Ludwick Way, Welwyn Garden City, at about 22:00 BST on 18 January.
They also deny trying to cause grievous bodily harm to Gregory Yembra, 19.
Mr Yembra told St Albans Crown Court he and Mr Sarki had travelled to the town from Stratford in East London.
Daniel Frazer-Traille, 29, Keith Coventry, 34, and Vinne Bradshaw, 19, of Bassingburn Walk, and John Taycur, aged 18, from Longmore Gardens, are accused of the joint-enterprise murder.
The court heard Mr Sarki had been stabbed in the Ethelred Close area of the town and he and his friend ran to nearby Ludwick Way before he collapsed.
It is alleged two of the defendants carried out the attack, while the others were close by.
'Friendly arrangement'
Prosecutor Christopher Donnellan QC said Mr Bradshaw and Mr Taycur travelled to King's Cross in London to conduct a financial scam involving a "wad of bank notes".
There he said they met a man named Elijah Makinde before returning to Welwyn Garden City.
Mr Sarki and Mr Yembra are then said to have made their way to Hertfordshire to recover the money. Mr Yembra denied the pair took weapons with them.
He told the court Mr Sarki was picking up the money on behalf of another person, and he went because he had nothing better to do. He denied he was there as back-up.
Mr Yembra added that it was "a perfectly friendly arrangement" and denied that Mr Sarki had been angry about money being taken from him.
The trial continues.