Father missing after Egypt cruise presumed dead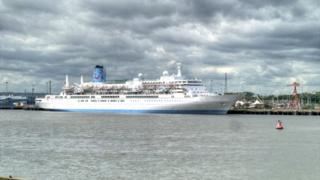 A father-of-three in his 60s who disappeared after sipping cocktails on a cruise ship off Egypt must be presumed dead, a High Court has ruled.
John Halford, of Milton Keynes, Buckinghamshire, had unexpectedly gone on holiday by himself after his 25-year marriage ran into difficulties.
Police had concluded that he had either jumped overboard or fallen.
High Court judge Mr Justice Hayden granted a presumption of death certificate.
'Beer and lager man'
Mr Justice Hayden analysed the case at a hearing in the Family Division of the High Court in London after Mr Halford's wife Ruth asked for a "declaration of presumed death".
She wept as she told the judge of marriage and money difficulties and said her husband had been preparing to move out and live in bed and breakfast accommodation when he disappeared.
His decision to go on the £6,000 trip in the spring of 2011 had caused surprise, she said.
Evidence showed that Mr Halford, who was "very much a beer and lager man", drank two cocktails in a casino bar on the ship in the hours leading up to midnight, said the judge.
He then disappeared, leaving belongings including a wallet and passport in his cabin.
Police had concluded he either jumped or fell overboard.
Mr Justice Hayden said having analysed evidence he was prepared to grant a presumption of death certificate.